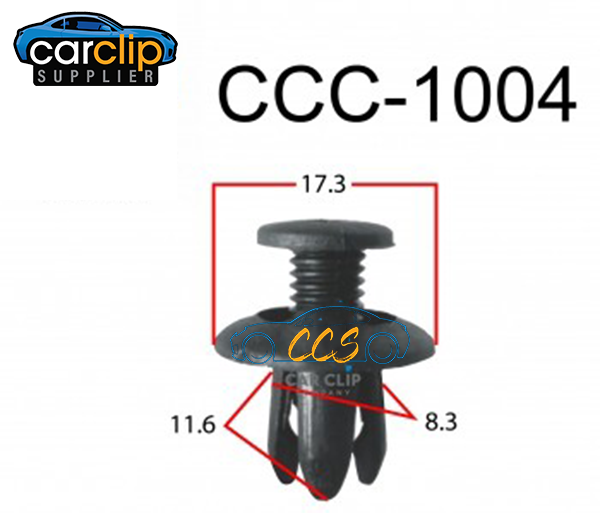 With the added feature of being detachable, flush head Scrivets offer an easy-to-use riveting mechanism. They are perfect for instances where a panel secured by a Scrivet must be removed for maintenance or servicing. By inserting the integrated screw into the body, fitting is accomplished fast and effortlessly. The center pin is removed by using a screwdriver to unscrew it.
Common uses of Scrivet clips include those for furniture, boats, audio equipment, domestic appliances, and automobiles. In order to quickly and conveniently fix panels, a range of screw rivets is utilized. After being screwed, the rivet's expanding effect in the panel hole effectively holds the panels together. A screwdriver can be used to treat and reuse these unscrewing rivets. A self-aligning mechanism is provided by the closed-end feature. Benefits include reusability, solidity, a beautiful finish, cost-effectiveness, and great resistance to shock and heat from -20°C to +85°C.
Variety of Scrivet clips:
Regular or personalized color grades, shapes, and sizes
Application of Scrivet clips
Automotive bumper, hood, interior, HVAC, and Home Appliances
Scrivet clips are tiny plastic fasteners with a 6mm screw hole. On some automobiles and vans, these clamps are used. The clips are used for exterior or interior trimmings like dashboards, arch linings, and scuttle panel trims. These clips are employed in a wide variety of vehicles and settings. Occasionally known as push-fit clips or Scrivet fasteners. For the majority of vehicles on roads, we keep a wide selection of Scrivet clips in store. These are mostly utilized in the engine bay of some models as well as for attaching the side skirts and rocker panel moldings. Some Mini models use this in the boot.
You are left with car parts that are only loosely attached when Scrivet clips pop out due to regular wear and tear or break-in collisions and incidents. You can securely fix and replace broken clips, door trim panels, inserts, and more with our broad assortment of metal fasteners and Scrivet clips. They support the bumpers, mudguards, and hood shields. Given their adaptability and durability, some employ them for non-automotive applications.
Read More Information: Trim clips & Car clips