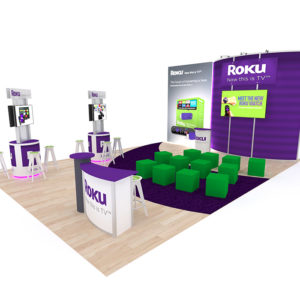 Renting exhibits is a well-liked option to buying them because they provide flexibility that may keep your trade show displays looking new and contemporary. Renting your display assets allows you to use various setups and sizes as your conference's needs vary. We can assist you in comprehending how rental exhibits operate, the true cost of renting an exhibit as opposed to purchasing one, and how this alternative can be beneficial to you. There are numerous options to suit your budget and goals, ranging from modular systems to custom solutions.
Possessing an exhibit might not be the best move for your business. Ownership often calls for a larger capital outlay and a more permanent design. Additionally, this associates your business with a specific design and style show. When renting is a possibility, owning an exhibit is not required. A rental exhibit is the best option if you want to stand out at a trade show while still finalizing your overall style with Hanging signs and design.
While it might be in your nature to buy your own exhibit, over 80% of trade show exhibitors rent for each event or under a contract rather than doing so.
Our Rental Displays at a reasonable price
For people who are new to trade exhibitions and for businesses that can only present rarely or that frequently change their branding, Rental Exhibits Los Angeles can be a fantastic solution. For a stronger booth presence, you can also choose to add rental components to an existing exhibit. You don't have to settle for generic exhibitions because our custom modular parts may be combined to build a rental show of any size and shape, from small custom exhibits to massive custom exhibits.
The Benefits of Renting an Exhibit in Los Angeles
We'll find a rental option for an exhibit that fits your budget.
You won't have to be concerned about keeping the exhibit up or storing it between trade exhibitions.