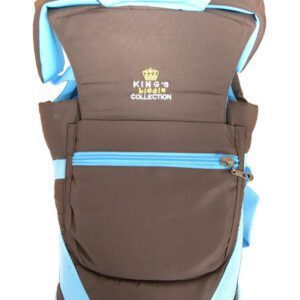 What is a baby carrier?
A baby carrier is essentially a comfortable "pouch-on-a-harness" setup that enables you to carry your baby against the front of your body or on your back while freeing up your hands. You might choose to use the best baby carrier as your exclusive method of baby transportation due to factors such as your lifestyle, storage needs, financial situation, or personal preference. Or you might discover that a carrier is an additional piece of equipment for situations where it's not practical to bring a pushchair somewhere or for situations where they wish to experience cuddling their baby near in a distinctive way.
When will you start using it?
You must consider the commencement date of your service while selecting your carrier. The majority of front carriers may be used starting at birth, but some just after three months, so make sure before you buy. If you're using the carrier with a very small infant, you can purchase handy attachments like dribble bibs and removable head support cushions.
Do you want a front or back carrier?
Typically suitable from birth, a front carrier will allow you to carry your little child close to you while freeing up your hands and arms. A front carrier often has a shorter lifespan than a back carrier because as your child grows, the pressure of carrying her will become more noticeable. A front carrier is gentle and simple to store.
When a baby can sit up and support itself, a back carrier is appropriate. You will be able to carry your child until she is 3 or 4 years old. It is typically heavier, bulkier, and less portable because it is more structured, made of durable fabrics, and occasionally even has a metal frame. Because it's a more comfortable carrying position, it's perfect for walking and trekking, transporting an older and larger child, and use over extended periods. The best baby carrier won't be visible to you, though.